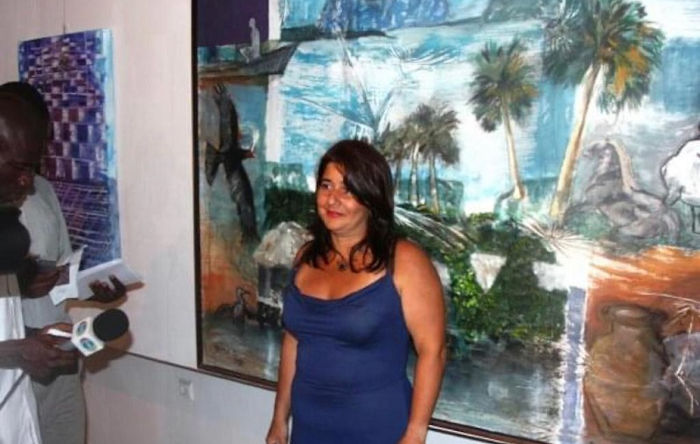 Venezuelan visual artist exhibits her paintings and sculptures in Luanda
Press release, Luanda
Venezuelan artist, Neisa Guerra, exhibited twenty-five paintings and six sculptures in November of 2008 in the Celemar Gallery portraying her daily experiences in Angola and Venezuela.
The showing, called "Vivencias," was available for the public for 22 days. One review said, "The artist creates images from the Angolan, African and Venezuelan landscapes, in a mix of blues, greens, yellows and browns colors."
The paintings were designed with a mix of techniques and acrylics over canvas, while the sculptures were made of stones.
The art critics highlighted that through her art, Guerra showed feminine beauty, the African masks and the art of the good dance.
"With this exhibit I tried to demonstrate that Angolans and Venezuelans are similar people, with similar behaviors and food," said the artist to Angop.
"I have lived here for a while; I am a curious observer and always try to portray everything that I see. From landscapes to people, but mostly, the dynamic Angolan way of life," Guerra states.
Without Barriers
The artist received excellent reviews about her exhibit "Vivencias". For the Angolan painter Tomás Ana "Etona", the exhibit of Neisa Guerra, was a demonstration that art has no boundaries or barriers. He said, "Everyone can participate without having to dream so much. She investigated Angolan aspects, more than many others, which is amazing and I think will take her far".
You can read the original article, published on November 27, 2008, at the Angola press agency web page m.poralangop.con.ao by clicking the following link:
http://m.portalangop.co.ao/angola/pt_pt/mobile/noticias/lazer-e-cultura/2008/10/48/Artista-Plastica-venezuelana-expoe-pinturas-esculturas-Luanda,3bcac0ba-0732-4e2b-919d-fe1a41346b8f.html